DISH & KITCHEN CLEANING TABLET: This formulation can remove stuck-on and burnt food from surfaces with ease, it cuts through the oil grime and helps you scrub faster. With Skadu power scrubber as a tool, this is a winning combination that will make your kitchen cleaning routine a breeze! It works great on all utensils and kitchen surfaces and leaves no residue after a rinse.
HOW IT WORKS. Simply fill the spray bottle with regular tap water (24 oz/750ml) and drop in a tablet and allow the tablet to fully dissolve to make 1 bottle of powerful Kitchen Cleaner. Includes 8 concentrated Kitchen & Dish Cleaner Tablets in your favorite selected scent.
SAVE MONEY, SPACE, AND THE PLANET. Buy the spray bottle once or use a spray bottle you already have at home, refill with our tablets, forever. No more throwing away plastic bottles or shipping water. Easy to store, easy to use. Refills are packed in compostable paper-based packaging.
SAFE FOR KIDS AND PETS: Our tablets are non-toxic and safe for kids and pets, they contain no parabens or phthalates. All ingredients are listed on the EPA Safer Chemical Ingredients List.
Fill24oz/750ml of warm water into your spray bottle. Tip: Don't use boiling water!
Drop in the Kitchen tablet and let it dissolve. The magic show usually takes 20 minutes.
Clean with a powerful and effective liquid, every single time!


Important Note:
A spray bottle dispenser is required to use Skadu Kitchen tablets.
If you do not have a 750ml dispenser, you can purchase one from our store.
No Parabens, No Phthalates, Non-toxic, Cruelty-free & Vegan-friendly. All ingredients are included on EPA Safer Chemical Ingredients List.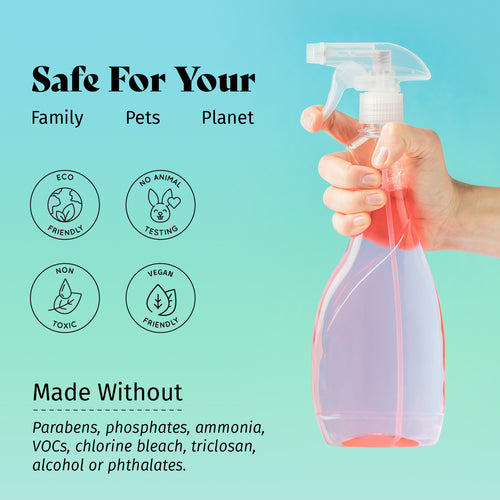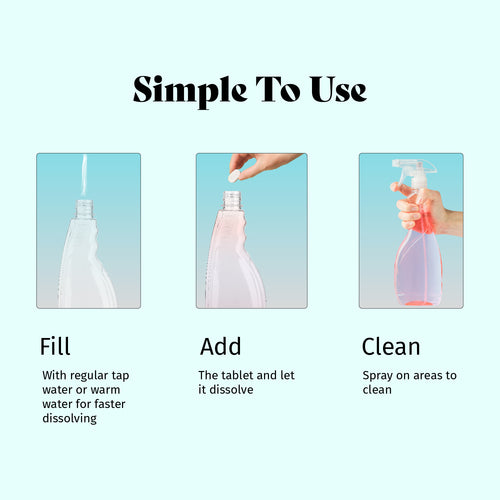 Get more from Hyperlychee
Technical Specifications
Dimensions: 188(L) * 114mm (H)
Weight: 0.7lbs (324 grams)
Technical Specifications
Motor
Stall Torque: 25kg.cm
On-Load Torque: 12kg.cm
Rpm: 250~300
Battery
Li-ion Battery 2600 mAh
Time to charge: 210 minutes
Battery run time: 120 minutes
Rechargable up to: 700 cycles
Charger: USB 2.0
Materials
Premium ABS Plastic
POM Gears
Platinum Silicone Sleeve
Stainless Steel Stand
Nylon Scrub Pads - Recycled
Copper Scrubber
Stainless Steel Scrubber
Nylon Bristles - Brush Heads
PU Foam
×